Who doesn't love Rafael Nadal? He's sexy, he's cute and he has our heart. Check out our site for all the inside information on this star. Visit us now.
It's no surprise that Nadal is one of the best tennis player on the court at the moment. The Spaniard along with Roger Federer and Novak Djokovic as formed a triumvirate in the sport. Another title that Rafael has to his name is the "King of Clay".
This Spanish tennis star Rafael Nadal has built up his popularity and is currently known as many to be one of the most competitive tennis players in the world right now. His amazing playing style has given him the opportunity to gain a lot of success on the tennis court, and lots of recognition as well.
If you should take a close look at his prize money, endorsements and everything that he had achieved throughout his career, you'll notice that Nadal is currently one of the richest tennis play in the game right now. Although he is still competing for Grand Slam, which shows that his legacy is still going strong. That doesn't signify that he's not made tons of money.
So before we look at the net worth of this tennis royalty, let us first go back to the beginning and see how he got there.
Rafael Nadal Parera was born on 3 June 1986 in Manacor in Spain. Recognizing in Rafael a natural talent, his uncle, Toni Nadal who was a tennis coach, introduced him to the game when he was just three years old and he has not looked back ever since then. In fact, he turned professional when he was just 15 years old and has enjoyed a beautiful and lucrative tennis career since then.
When it comes to his playing style, Nadal generally plays an aggressive, behind-the-baseline game founded on heavy topspin groundstrokes, consistency, speedy footwork and tenacious court coverage, thus making him an aggressive counterpuncher. He is also an excellent defender who hits well on the run, constructing winning plays from seemingly defensive positions. He also plays very fine drop shots, which work especially well because his heavy topspin often forces opponents to the back of the court and he is well known for his success on the clay courts.
In his personal life, Rafael Nadal is very happily married to María Francisca Perelló Pascual since 2019 and lives in his hometown and he is an absolute sports fanatic who enjoys football, golf and poker in his free time.
What is Rafael Nadal net worth? Rafael Nadal net worth is estimated to be around $200 million or just little under. It is said that he had made about $120 million on the court while competing and his popularity on and off the court allow him to achieve some amazing endorsement deals as well. Not only that but Nadal who is currently 33 year old as of writing is said to have his eyes on investing for the future which is a great transition for when he decides to retire from the world of tennis.
Career Prize Money Earnings
Nadal has been competing in the sport for about 15 years now and has achieved 19 Grand Slam titles to his name which put him in second place in terms of titles. He had gained a lot of success at the French Open, giving him the opportunity to hoist the trophy 12 times. If we should just calculate his prize money that he had earned at the French Open would land him in the top 20 when it comes to career Earnings.
It is safe to say that he is no longer technically in his prime. With that said, 2019 season was one of the most lucrative of his career to this day. He was able to won two Grand Slam titles and that was a major contributor to his $16.3 million dollars earning.
Here is a brief breakdown of how much money Rafael Nadal earned over the years of playing competitive tennis. It's a breakdown of each year prize money.
If you should add up everything that he had earned over the years of being a pro, the total would be $120 million earned through tournament prize money. This made Nadal the 3rd highest earner in ATP history.
His amazing game play on clay has help him a lot throughout his career when it comes to smaller tournaments. Every time he takes part in clay court tournaments, he is considered to be the crowd favorite to win the match. He currently has 11 titles at Monte Carlo, 9 in Rome and 5 in Madrid. All of these events are ATP Masters 1000 series, what this means is that he earns quite a bit when competing in these matches.
We all know that Rafael Nadal is one of the most talented players to ever walk the court and though he's one of the greatest, his earnings could have been a lot more if he wasn't forced to miss a few tournaments.
Not only that, but he had also played a few tournaments even though he was injured, which meant that he was capable of achieving only a few wins before he tapped out. Since being one of the most talked about on tour, he has missed around six Grand Slam events overall.
Also he have a very common habit when it comes to skipping a few hard court tournaments near the end of the season, as he prepared for the upcoming U.S. Open and Year End Championships.
Endorsements
Nadal is one of the top tier player in the sport which land him some of the biggest endorsement deals throughout his career. Whether it is simply his signature look on the court or things that he had done off the court, his overall wealth has increased by a ton over the years.
Rafael Sponsors
Nadal is known to be one of those tennis players who take their tennis racquet very seriously. He started playing with the Babolat tennis racquet and he doesn't seem to be interested in any other options. It is said by many people that he is still using a racquet that is extremely old in terms of technological perspective, but they did a great paint job on it to make it look like a newer racquet.
Along with using Babolat racquet to play, he also uses strings from the company. He is the face of their brand at this very moment in his career and they continue to meet his financial demands.
Clothing Sponsors
Rafael Nadal is one of the biggest sports player to be signed with Nike at the moment. If you look closely you'll notice that he had been wearing Nike clothing since the start of his professional career. Over the years his looks as always changed up starting with him wearing a sleeveless shirt and capri pants early in his career. Now, he mostly wears a modern fit while playing.
Though they haven't released an official signature shoe for Nadal as yet, he still gets a lot of personal treatment for his look. You have many people who actually love how he stands out on the court and he's one of the best to work with when he enters the tournaments.
Other Endorsement Deals
One thing that we realize about Nadal is the fact that he only partner with companies that he really likes and believe in. With that said, he has been a global ambassador for Kia since 2006. Apart from that, he also worked directly with Lanvin and their cologne for several years now.
He also work with a few other companies such as Richard Mille, Telefonica, Tommy Hilfiger and many more. When it comes to speaking for his brand he mostly speak in Spanish, but he's capable of speaking proficient English as well that gave him the opportunity to be a crossover star.
Other Wealth Contributers
One of the biggest thing that he had ever done was when he created the Rafael Nadal Sports Center. He created and funded his own Rafael Nadal Tennis Academy, which gave the younger generation the opportunity to learn and take tennis to the other level.
Though he makes a few bucks from this investment, it is more of an investment in the future. His main goal is to play a huge role in this investment once he is retired from tennis. Not only that, but if a future pro should breakthrough from his academy, his global reputation would get even bigger which means more money for him.
It is safe to say that, Nadal has been very picky with some of his endorsements in recent times. This is mainly due to the fact that he prefer some type of equity as well as payment upfront. By doing so it will help a lot in terms of building up his net worth as he transition from an active player to retire eventually.
Future Outlook
There are a lot of people as well as tennis players who thought that Nadal would have a very short career base on his playing style. He is known to be consistent which puts a lot of wear and tear on the body. Once he reached in his 20s, there were a few players who thought that he would retired from the sport, but I guess they were wrong. As you can see, he is still going strong and doesn't seem to be leaving the game any time.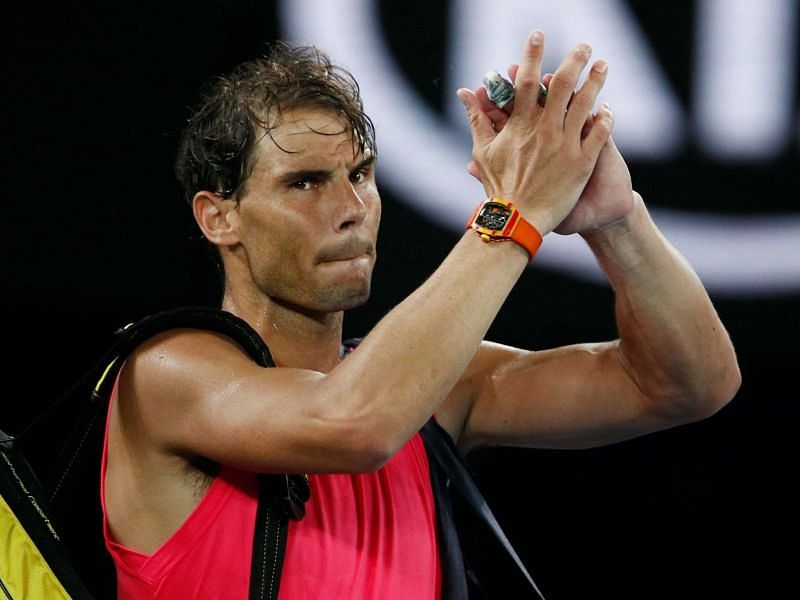 Now that he is currently in his mids 30s, he is still competent at his highest level against his opponents. He still holds the title has one of the most dominant player on clay and will provide him with the ability to win a few tournaments until he decides to leave the sport for good. Not only that, but he also has the talent to win any of the Grand Slams, as we have seen in the most recent U.S. Open.
We are all here to see which path Nadal ends up taking after he decides to quit tennis after so long as one of the best on the court. Most people think that he will just focus on his Academy as he has stated and not go to traditional coach or commentator route. There is a huge chance that he might try to take part in other sports since he is a big fan of soccer. With all the money he had gained over the years, he could easily some ownership opportunities if he want to.
Conclusion
Now that you have reached to the end of this article, I am sure you know all there is to know about this great tennis superstar. He is truly one tennis player who has had great success both on the tennis courts as well as off the court through his various brand endorsements and sponsors. Of course, he has reached such heights in his career purely based on his talent and deserves all the accolades that he has received.
Social Media Profile
Related Guide: