Matteo Berrettini has a comfy pair of shoes that you might like. Take a close look at them and decide if they are what you would like to wear. Visit us.
The Italian tennis star Matteo Berrettini is actually coming from an amazing 2019 season, where he was literally struggling, to becoming a US Open semi-finalist. Berrettini is known in the game for his powerful forehand, that may be one of the greatest we have ever seen on the ATP Tour, and for his impressive equipment.
With all the success he have gained over the years on the court, many people start to asks, what tennis shoes Berrettini uses to compete at the highest level and dominate the game. That's exactly what we will be going through in this article.
What tennis shoes does Matteo Berrettini wear? Matteo Berrettini currently wears the Lotto Mirage 100 SPD. When it is clay season, he then switches to a clay version of the Lotto Mirage. The good news is that Berrettini have been wearing this shoes for a period of time now and doesn't seem to be changing it anytime soon in the future.
So,  before we take a detailed look at Matteo Berrettini's tennis shoes, let us look at how you can choose the right tennis shoes for yourself.
How to choose the right tennis shoes?
Based on the playground:

Playgrounds such as Clay, grass and hard courts all have a different feel while playing. So for a

Clay court,

choose shoes with a herringbone pattern on the sole that will keep clay out but still provide a good grip on the court. For a

Hardcourt,

choose shoes that are durable and that will give good grip and for

Grass court,

choose shoes that are flexible and have nubs on their sole so that they do not slip.
Based on your feet:

Choosing tennis shoes based on your feet is really important as every person's feet are unique. If you normally notice a lot of wear around the inner side of the sole this means your foot is

pronated

, always choose a shoe with extra cushioning. If you normally notice a lot of wear around the outer side of the sole this means your foot is

supinated

, so choose shoes that are durable. If there is even wear all around the shoe then you have ideal or

neutral

feet. Choose any tennis shoes that are comfortable for you.
Based on game style:

Choosing the right tennis shoes should also be done based on playing style. For

baseline players

shoes with good lateral support work best. For

serve and volley players

shoes with good toe cushioning are perfect.
Matteo Berrettini Tennis Shoes Review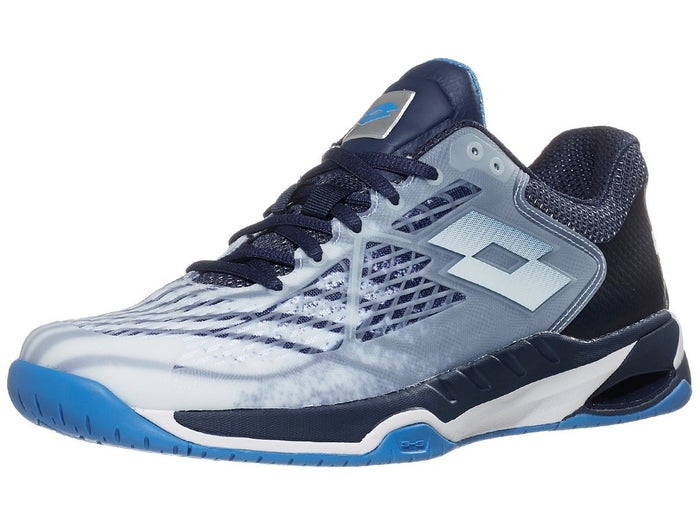 Though Matteo Berrettini shoe the Lotto Mirage 100 SPD may not be one of the most popular shoes on the market because they tend to keep a very low profile, it's actually well known among some of the most top ranked tennis player around the world. Apart from Berrettini, you have players like Kevin Anderson and Guido Pella who enjoys wearing the shoe while playing the sport.
Players really appreciate the fact how lightweight the Lotto Mirage 100 SPD really is, making it feels like you are just running around the court with just socks on. They are without a doubt one of the most comfortable shoe to wear right now and the soft feeling you get while wearing this shoe is pretty much hard to find anywhere else on the market.
Even though this tennis shoes is extremely lightweight, it also fulfill all your support and stability needs which makes it worth it. The shoe comes equipped with a multilayer Kurim upper, which provides it with the right amount of stability without actually adding much weight to it.
Not only that, but it have an innovative geometric-like outsole grips that grips the court well for superb traction, while it still being durable enough for extensive use on any surface. As you can see, this is an above average shoe that literally got the best from both worlds in terms of support and comfort.
Can You Buy Matteo Berrettini's Shoes?
I would strongly recommend this tennis shoes to anyone looking to invest in a shoe that is lightweight, comfortable and has tons of support. The Lotto Mirage 100 SPD has become one of the most popular shoe in the tennis world. It is a must try for anyone looking to play at a more competitive level.
With all the popularity surrounding the Lotto Mirage 100 SPD, it's pretty much available everywhere on the market right now. However, what you may noticed is that the price tends to differ depending on where you choose to buy it from, but base on research, we found Amazon to be the most affordable marketplace at the moment. What I suggest doing is take a look around and compare the prices, since they tend to change on a regular basis.
Conclusion
Now I am sure you know just how to choose the right kind of shoes for yourself. The shoes that Matteo Berrettini uses are the Lotto Mirage 100 SPD and though these shoes may not be the most popular ones they are lightweight and are favoured by a few of the big players.