Know about his net worth and the endorsements that make him so rich. Get the inside details of Stan Wawrinka and all deals related to him. Visit us today.
Despite ranking #17 now,  Stan Wawrinka was once among the top-three best tennis player in the world. He was ranked third in the year 2014, The professional tennis is from Switzerland and was born on  March 28, 1985. Stan Wawrinka seems to like the number 3 for the main reason that he was once ranked number 3 and had won 3 major grand slam events.
Stan Wawrinka started playing tennis when he was just 8 years old and he loved the sport so much that he soon quit regular school to focus on tennis practice. He then continued his schooling via distance learning. He had such a natural talent for tennis that he turned professional at the young age of 17 and he has not looked back since.
Playing style
When it comes to his playing style, he possesses one of the strongest one-handed backhands. He is a powerful offensive baseliner who is capable of playing well on most surfaces, especially on clay and hard courts. He is fondly nicknamed as Stan the man due to his unique backhand drive motion which is very different to other players.
This is because, upon releasing the racquet to make contact with the ball, his hip and body turn to continue to open up the chest to face the opponent. This is unlike most conventional 1HBH players that stop with the hitting shoulder facing the opponent. The racquet face also remains closed throughout the follow-through, unlike most conventional 1HBH players that open up the racquet face during the follow-through to allow for lifting action. The racquet then continues the swing path to reach behind the body.   This is unlike most conventional 1HBH players that use the lifting action to bring the racquet above their head. It is, therefore, safe to say that while Stan Wawrinka has aged, his talent still surprises most of us on the tennis courts in a good way.
Personal life
When it comes to his personal life, Stan Wawrinka seems to be quite private with most of his relationships kept under wraps. He got married on 15 Dec 2009 to Ilham Vuilloud with whom he has a daughter Alexis. However, they soon divorced in 2015
The professional tennis player  Stan Wawrinka has over 16 titles to his alongside the three major grand slam ones, having achieved all this leaves the question of whats the pro-tennis player's net worth?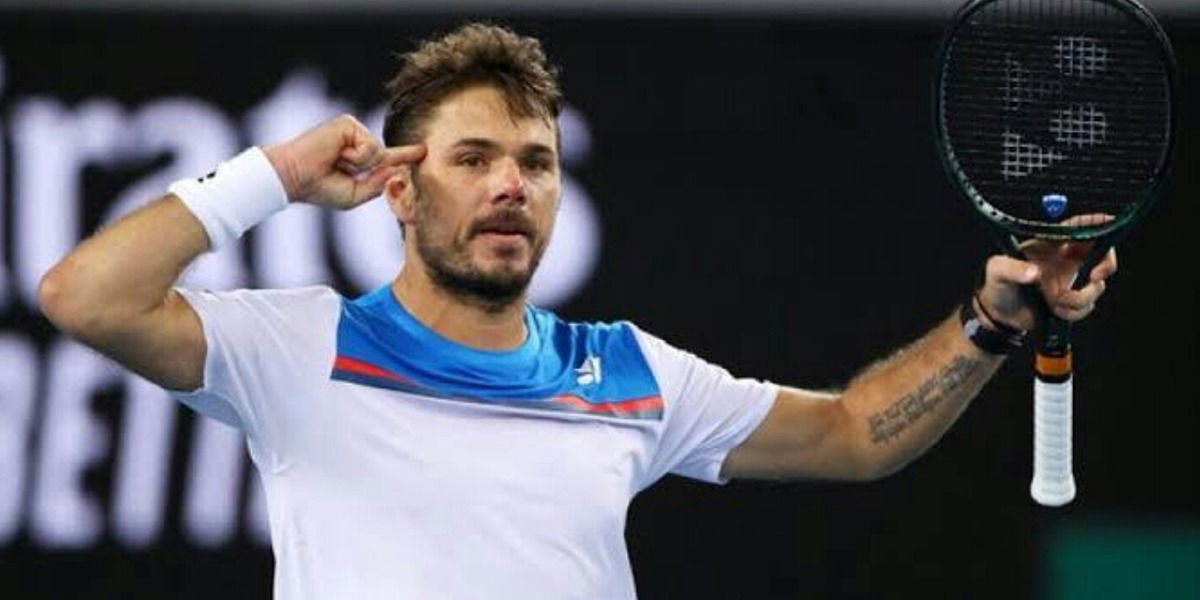 Stan Wawrinka with all his achievements is worth $35 million and if we are to include his endorsements deals it would racket up to $40 million due to the main reason that we are not fully sure of the amount he is been paid for endorsing the products.
With the endorsements exclude its safe to say that  Stan Wawrinka's net worth is at $ 35 million in regards to money won over his years as a professional tennis player.
Stan Wawrinka Prize Money Earned
Stan Wawrinka has been playing tennis from a very young age he turned pro in 2002 and from then has been collection checks for some small leagues won. 2013 was a great year for the professional tennis player in that year he had collected his first big check of $2.6 million and his checks kept on increasing from that year on.
Some of the major grand slam events the professional tennis player won were the Australian Open, he won this in 2014, the French Open in 2015, and the U.S openings in 2016, the professional tennis player was also apart of the team who had won the Davis Cup in 2014.
Stan Wawrinka had also won the gold medal for Switzerland in the2008 Summer Olympics men's doubles competition. As I stated the pro-tennis player has many different titles and owns to his name making him one of the best tennis players in the world up to this day even though he is not among the top five or three ranking tennis players in the world.
Below I will show y=you how much was earned by the tennis player for each year in his career.
Paid Earnings per year
2005-2007
2008-2010
2011-2012
2013
2014
2015
2016
2017
2018-2020
The above figures are the cash money Stan Wawrinka won withing each year of the tennis player's career. Most people say the professional tennis player is a legend in his career the fact that he has three grand slam won titles in his name alongside some other major titles is something that most players even at the pro-leagues don't have.
The professional tennis player has been undergoing some injuries in the past year causing him to not be able to perform as good as he would want to perform on the tennis court. Injuries are very common in tennis all the best that we have had in the sport of tennis have been injured and have to take a break.
All that aside there are some other things that contribute the player's net worth, like for one his endorsements. let us see what types of deal he has and his sponsors next.
Stan Wawrinka Endorsements
Stan Wawrinka has been endorsing the Yonex brand line form 2016, he uses the Yonex vCore 95D racquet and wears the Yonex branding shoes as well. It's unsure how much the professional tennis player gets paid for endorsing both the tennis racquet of the company and the tennis sho.
the tennis star also has an endorsement deal with a train service called TGV Lyria train service, the train runs between France and Switzerland, with his photo big and bold on the outside.
I myself have also wonder how is it that he is so low on endorsements am not sure what's going on because I am sure many companies out there would want to work the pro-tennis player. It is also said that Yonex pays him good so I guess that could contribute to why he only sticks to the one company.
Final thoughts On Stan Wawrinka Net Worth
We had thought that for one as big as Stan Wawrinka that he would have some bigger endorsement and sponsors but I guess he likes sticking to the less popular ones. It is a good thing that he is a very talented player on the tennis court with a lot of success and wins in the game.
The next question fans are asking is will his net worth goes up for the main reason that he is in his late thirties. If it is in terms of winning a next grand slam event am not sure how fit he is at that age worst he has been injured lately.
In regards to investments, his net worth can skyrocket if he invests in the correct business, most professional athlete when their net worth is caped and his or her career is going to an end they normally do some form of business for some it will be a success with the right team and you can double if not triple what you are earning and net worth.
With everything said Stan Wawrinka has a net worth of $35 million dollars that he had won over his period of time from the time he turned pro until now.
It's not a sure factor of how much gets for his endorsements but it's safe to say that it would give the pro-tennis player a boast to $4o million dollars if we were to calculate his endorsements as well.
Thanks for reading Stan Wawrinka net worth with us and we sure do hope you have learned something that you may not have known before rea our article. Please remember to visit some of the other related articles that we have on here like for example, Grigor Dimitrov's net worth and some other related interesting articles that we have on here.
We also have the best tennis racquets that you should be used alongside with all the tennis racquets that the professional tennis players are now using and endorsing, feel free to visit the how-to sections in the main menu as well.
Social Media Profile
https://www.instagram.com/stanwawrinka85/