Imagine wearing Serena Williams tennis shoes. If nothing else it might give you the cofidence to perform like her on the court. Take a look and decide.
Serena Williams achieved so much throughout her career she will surely go down in history as the most successful female tennis player ever to play the sport . Separate from being the best ever, Serena Williams have also established herself so well she's now one the most famous and popular athletes in the world.
With all the popularity and greatness on court, a question person wants to know that they ask so many times is what tennis shoes she plays with at the very highest level. Let's find out in this article.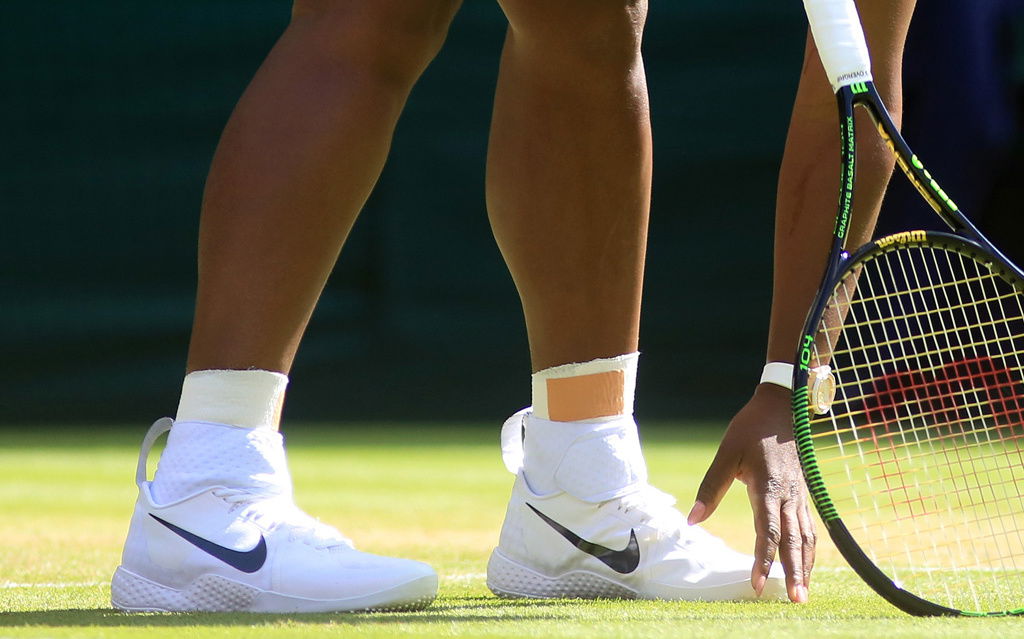 What tennis shoes does Serena Williams Wear? Serena Williams presently uses the Nike Flare 2 HC. It isn't only just a shoes she uses but it's Serena's signature shoe created to celebrate all her accomplishments on and off the court.
So,  before we take a detailed look at the specifics of Serena Williams' tennis shoes, let us look at how you can choose the right tennis shoes for yourself.
How to choose the right tennis shoes:
Based on playground: Playgrounds such as Clay, grass and hard courts all have a different feel while playing. It is therefore important to choose shoes that will handle well on the court that you favour the most.
Clay court

– choose shoes with a herringbone pattern on the sole.

Hardcourt

– choose shoes that are durable.

Grass court

-choose shoes that are flexible.
Based on your feet: Choosing tennis shoes based on your feet is really important as every person's feet are unique and have different needs.
Pronated

-if you normally notice a lot of wear around the inner side of the sole this means your foot is pronated, always choose a shoe with extra cushioning.

Supinated

-if you normally notice a lot of wear around the outer side of the sole this means your foot is supinated, so choose shoes that are durable.

Ideal

-if there is even wear all around the shoe then you have ideal or neutral feet. Choose any tennis shoes that are comfortable for you.
Based on game style: Choosing the right tennis shoes should also be done based on playing style as shoes vary based on if you are a baseline player or a serve and volley player.
baseline player

– shoes with good lateral support work best.

 

 serve and volley player

– shoes with good toe cushioning are perfect.
Serena Williams Tennis Shoes Review
When it comes to the Nike Flair 2 HC Serena doesn't just wear it but it was also inspired by her. It is made for players with a explosive play of style which will need to have the stability and support. Nike utilizes a breathable mesh upper and a bootie which is structured to have a sock-like feel, which renders comfort unimaginable.
Serena's tennis shoes are the right for players with a aggressive style of play including herself. It features top-of-the-line explosiveness, lightweight cushioning and profound comfort, that helps you to maneuver in direction with quick steps.
One of Nike's loveable features that it's known for is it's remarkable traction and Serena's shoes are no exception. They use something named XDR Rubber in a herringbone pattern that gives the Flair 2 HC exceptional traction on to any surface.
Players love the feel of the lightweight the Flair 2 HC while tracking around on court. It literally feels like your tracking with nothing on but socks, which makes you feel more swift on the court. However, you will notice that they have lessened just a of stability to gain that. But, as far as speed and usability is concerned, there is no problem with the Nike Flair 2 HC. Want to enhance your footwork to the next level? Go and try out Serena's Nike Flair 2 HC shoes.
Can You Buy Serena Williams Tennis Shoes?
If play style is aggressive, such as Serena Wiliams herself, I highly recommend trying her Nike Flair 2 HC shoes. They are precisely for aggressive style players and for the best female tennis player ever to be wearing a shoe specifically for her use, they have to be pretty good.
The Nike Flair 2 HC is available on online stores, several ones , but they have plenty different versions of it, so make sure to purchase the correct version (if you want Serena's shoes). The price of her shoes changes plenty depending on where you make your purchase, as I'm currently writing this, I found the most affordable price on Amazon. Check out the price up now and make comparison, because the prices are always being changed.
Conclusion:
After reading this article, I am sure you know just how to choose the right kind of shoes for yourself. The shoes that Serena Williams uses are the Nike flare 2 HC that were inspired by her and are meant for aggressive players, so if you fit that bill, go for it.
Related Guide: