These rafael nadal tennis shoes will give you a good grip and keep you comfortable all through your own matches. Get them now and flaunt in your gang.
Rafael Nadal, this name has to be one of the most called names in the sports of tennis and will also be written done in the tennis book histories. The crowd loves watching him on the court, even though he is now ranked #2 on the ATP ranking board he is the best player in the world of tennis to have play on clay grounds.
Rafael Nadal was born on June 3, 1986, and was born in Spain, we are not quite sure at which age he started out playing the sport however we know for a fact that Rafael Nadal worked very hard and turned himself in one of the most successful tennis players of all time today.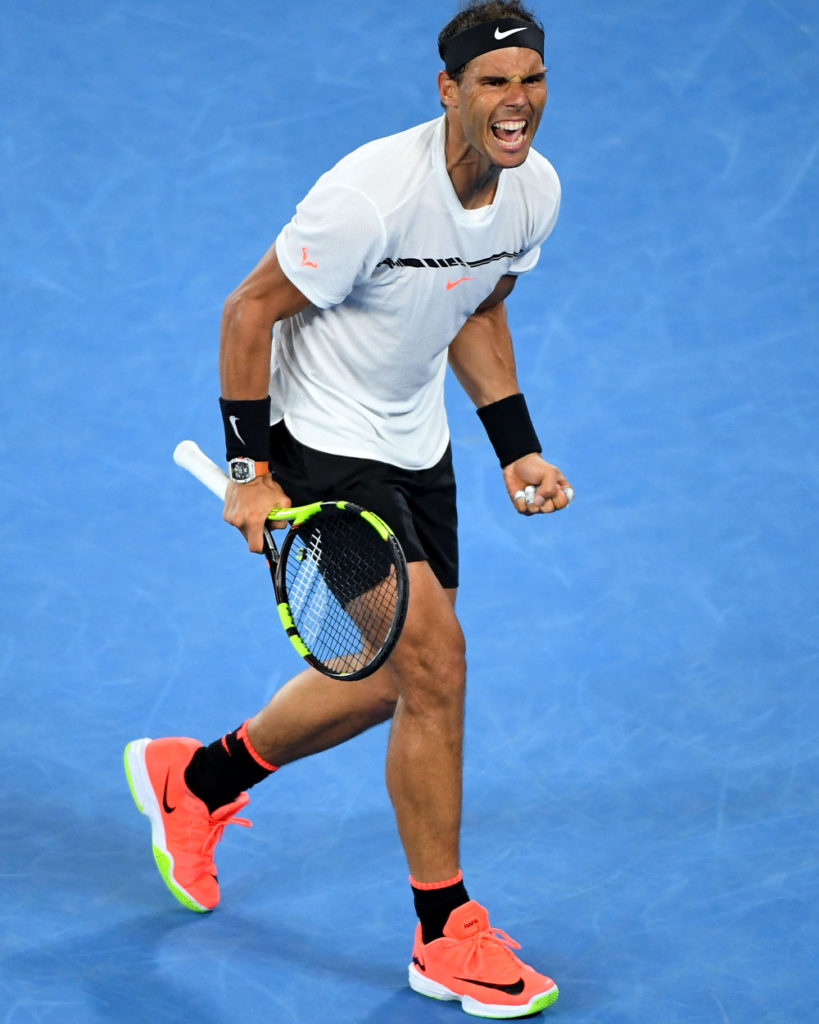 There are only a few professional tennis players out there who can say that they have won all the grand slam tournament events at least once. It is amazing the successes of this pro-player his name is differently worth being in the tennis history books. When you hear the name, Rafael Nadal you know what's coming on the court, his heavy topspins because he played with a lot of topspins in his game as well.
All that aside if you were to take notice of his footwear you would see that he sticks to one brand and model it doesn't matter the color he would wear its the same brand and model.
What tennis shoes does Rafael Nadal wear? For the majority of his previous games won the past he wore the Nike Lunar Ballistic shoes but from the new Nike Zoom Cage 3 came out he had made a switch and is now wearing the Zoom Cage 3 and will switch to the clay version when needed.
I personally wonder how good and comforting the shoes is to have made him switch to that model, however, let us get into the specs of the new Nike Zoom Cage 3 to see what it's like below.
So,  before we take a detailed look at the specifics of Rafael Nadal's tennis shoes, let us look at how you can choose the right tennis shoes for yourself and why using the right tennis shoes is so important.
Why is it important to choose the right tennis shoes?
Every player is different and has different needs.

We all have unique foot shapes and types

Every tennis player does not play on the same kind of surface.
How to choose the right tennis shoes
Based on playground: Playgrounds such as Clay, grass and hard courts all have a different feel while playing. It is therefore important to choose shoes that will handle well on the court that you favour the most.
Clay court

– choose shoes with a herringbone pattern on the sole.

Hardcourt

– choose shoes that are durable.

Grass court

-choose shoes that are flexible.
Based on your feet: Choosing tennis shoes based on your feet is really important as every person's feet are unique and have different needs.
Pronated

-if you normally notice a lot of wear around the inner side of the sole this means your foot is pronated, always choose a shoe with extra cushioning.

Supinated

-if you normally notice a lot of wear around the outer side of the sole this means your foot is supinated, so choose shoes that are durable.

Ideal

-if there is even wear all around the shoe then you have ideal or neutral feet. Choose any tennis shoes that are comfortable for you.
Based on game style: Choosing the right tennis shoes should also be done based on playing style as shoes vary based on if you are a baseline player or a serve and volley player.
baseline player

– shoes with good lateral support work best.

 

 serve and volley player

– shoes with good toe cushioning are perfect.
Rafael Nadal Tennis Shoes Review
Nike Zoom Cage 3
Heel delivers responsive
Lightweight cushioning
Herringbone outsole
External heel clip
Flexible support
Lightweight stability
Bootie construction wraps
Kurim material
Durable
Affordable
The Clay version is slightly different in specs but basically the same, Nike is major brand so its no surprise they would know what building quality and a durable shoe are. The Zoom Cage 3 has some very comforting new technology upgrades I now see why the tennis star had switch up and now wearing the Zoom Cage 3.
Am sure this is lighter on the feed than the previous one he was wearing and more comforting as well, this new model is even more flexible than the previous model. A next great feature about these tennis shoes is that it is padded with some soft extra cushions that will protect your feet from getting an easy sprain or damage.
To my knowledge, the specs on this will be hard to beat it's very stable, lightweight, flexible, comfortable you basically wearing three shoes in one.
The bottom line is this a great shoe that I would recommend level playing type of tennis players to get it doesn't matter if you are a beginner or a professional tennis player this will surely contribute to your on-court talents.
Can I Buy Rafael Nadal Tennis Shoe?
Yes, As we all know Nike is big brand and can be bought on many platforms however we will only recommend the safer market places like the official nice stores or website and apart from that you can check o eBay or on the Amazon market place where I am sure you will get it an cheaper price.
Conclusion
We thank you for reading and reaching the end of our article on what tennis shoe does Rafael Nadal wear, do remember to go check out a few of our other related articles that we have on here like,