Check out the watch this Serbian superstar sports. The novak djokovic watch is as sparkly as the guys smile. Look at it and buy a similar one for yourself.
When watching Novak Djokovic playing whether on the TV or in person, what you'll notice is that he doesn't have a watch on his wrist like many of the other top ranked players. However, that doesn't mean he doesn't have a collection of watches, he actually have an endorsement deal with a watch company that's well known across the board. Whenever he is hoisting another trophy or he is simply pulling it up at an event, there's a high chance of him wearing a watch on his left wrist. But, many people starts to ask questions like, what watch does Djokovic wears? That's exactly what we will be going through in this post.
So, what watch does Novak Djokovic wear? The Serbian top tennis player Novak Djokovic currently has a strong sponsorship with the watch company Seiko and you may often see him wearing the Astron GPS Solar. He has been spotted multiple times wearing a wide range of options from the company and he is known to be one of their top athlete endorsers around the world at the moment.
Why Are Tennis Stars Chosen As Brand Ambassadors?
You must have noticed that a number of tennis stars are involved in endorsing certain products and also collect hefty sums for the same. The simple reason for this is due to the fact that most tennis stars have a huge fan following. The popularity of the sport makes the players famous and they become known faces with a global audience that wants to mimic their every action. 
This puts them in the sweet spot for marketing. Large companies vie against each other for A-listed players and are ready to dole out huge amounts of cash to sign endorsements with these tennis stars. 
What Makes Novak Djokovic A Good Choice As A Brand Ambassador?
Very obviously, this is the primary reason that companies vie for him. He is a living tennis legend who continues to excel and is constantly breaking barriers. It is hence, no surprise that conglomerates spare no expense to build an association with him.
Djokovic appeals to the young and the old alike. He can draw huge crowds for his matches. What he wears, is soon swiped off the shelves of stores. This means that he has a large part of the World population watching his every move. This makes him an excellent model for companies who want a pedestal for their products.
All companies expect a certain amount of professionalism and respect from their brand ambassadors. Djokovic has never been disappointed in those aspects. He is professional and mindful of his behaviour, both on the court and in his personal life as well. Hence, the brands associated with him are always cast in a positive light and do not have to worry about negative publicity. He is the ideal candidate for a brand ambassador.
Why Doesn't Djokovic Wear His Watch During Play?
What you'll noticed when watching the sport is that there are a high range of players who actually wear watches when taking part in the game. And the reason for this is because they have sponsorship with a certain company that does a really good job at pushing a lot of exposure. With that said, you have a handful of players who opt to not wear a watch while playing because they think it might get in the way.
It is said that, two-handed backhand players are mostly affected by a watch on the wrist than a one-handed backhand player. Due to the fact that Djokovic relies heavily on having a strong backhand, that could actually be one of the main reasons why he doesn't practice wearing watches when playing on the court. He already has wristbands on both wrist which already make it difficult for him.
Novak Djokovic Watch (Seiko)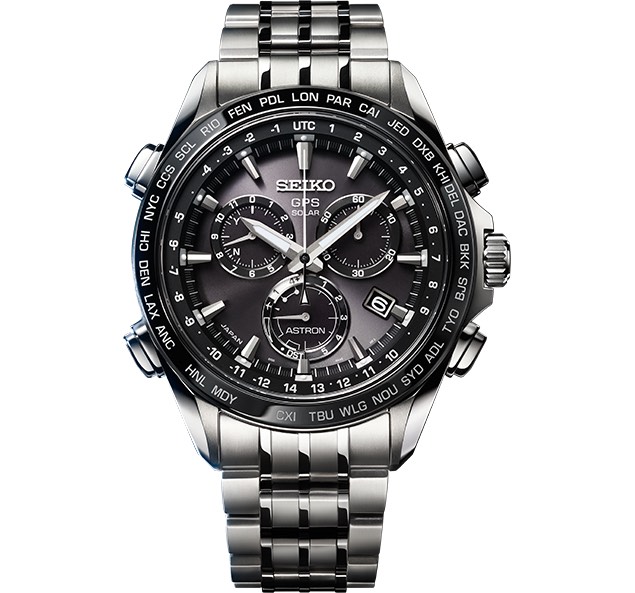 Let's take a closer look at the history between Djokovic and Seiko. In 2014, Djokovic became an ambassador for Seiko. One of the reasons for this is because he was already an established player on the court which means he have a lot of eyes on him. The company has always have a love for the sport of tennis, so getting one of the best players of his generation to endorse their product is a big win. Having exposure especially when it's tournament definitely helps to grow their brand awareness.
The relationship between the two go way beyond just watches. Seiko also helps to assist Novak Djokovic with his foundation in many ways. His foundation was created to help young people and that's his main focus whenever he's not on the court playing. Djokovic is one of the few top tennis players who's past life was not the best, so giving back to people is one thing he surely does enjoy.
It's not shocking that Djokovic literally held out for a sponsor to provide that level of support to him and his foundation. As you can see, Djokovic benefits financially from the solid relationship that he currently have with Seiko, but what he truly enjoys out of everything is to help others as well.
His foundation is more focus on helping early childhood children which is really appreciated. By simply making a way for the children's at a young age, the children's are actually set up for success later on in life. Seiko literally lines themselves up as a company with the same vision as Djokovic, which makes this partnership a solid one.
Seiko Watches Worn By Novak Djokovic
Due to the fact that Novak Djokovic mostly wears his watches while he's off the court, he tend to switch them up a bit depending on the occasion. When it comes to the most popular ones, the Premier Kinetic Perpetual and Sportura Chronograph are known to be two of his favorite.
These watches are very popular among the brand and is said to be two of the classic models, because of their ability to fit many different occasions. You have many different interviews where Djokovic stated that he is a but stickler when it comes to making sure that his outfits match, so he owns a wide range of the same watches for any occasion.
It's safe to say that his favorite model is the Seiko Astron. This is a very special watch and it's said to be a limited edition version with his name on it that has turned into a hot collector watch. One of his best performance in tennis history, if you look closely you'll noticed that Djokovic wore this watch during the trophy ceremony when he beat Roger Federer in the 2019 Wimbledon Championships. It actually became one of the most watched matches to take place in quite some time now, and all eyes were on Djokovic at that time as he was giving his speech and hoisting the trophy as he celebrated.
Djokovic as a Marketing Figure
Even they you may see Djokovic wearing a few watches that are on the expensive side to consumers on a tight budget, Seiko seems to have a different marketing approach than some of the other top watch manufacturers on the market. Instead making Djokovic wears watches that most people won't be able to afford, they try there best to keep things relatively attainable for the every day person.
For example, many of the watches Djokovic has worn in the past fall between $1000 and $3000. As you can see, that's a lot of money for average people. You have brands like Rolex and Richard Millie, just to name a few that actually convince their top ranked players to wear watches that are some time cost five or even six figures.
Seiko has a complete different approach when it comes to marketing their watches to the world. Tennis is considered to be one of the biggest sports worldwide where a play have the opportunity to wear a watch during a match.
This is the main reason why you have so many players across the board, have watch deals with leading brands. The main target is to build the brand recognition, so even if the person is not in the position to afford what their favorite tennis star is wearing, they can simply opt for some thing else in the lineup.
The Future of Djokovic and Seiko Relationship
Base on what I'm seeing at the moment, it seems like the relationship between the player and the company is stronger than ever. They are both fans of each other and I can tell that Djokovic really enjoys wearing the brand. He stood his ground and opted not to wear the watch during match, but when off the court, he doesn't have any problem rocking the watch while matching his outfits.
One thing you will need to keep in mind is that his deal currently runs through 2020. When compared to other top players, you'll realize that his endorsement deal is a bit on the lower end. Seiko job is to actually fight off their competitors, so they don't run the risk of losing one of their biggest top rated athletes. With that said, you have many different companies that will heavily pursue Djokovic if he ever becomes a free agent.
One thing for sure, is that he will likely loom for a deal that run smooth through the rest of his prime days on the court. And because of this it will not be a cheap signing for the company that he choose to go with. But Seiko have already heavily invested in him so it would be a total waste to actually lose their top tennis player at this time.
Spotting Djokovic in Different Watches
In order to see the different watches that Djokovic enjoy wearing, you have to visit the Seiko Official Website. They have listed all the watches he wears as well as other relevant information.
Once you have find the one that you are interested in, you can shop around for the best possible deals. Watch prices tend to vary a lot, so there is no reason to spend a huge amount money right now if the right deal is out there for you.
Related Guide: