The Denis Shapovalov Tennis Racquet is on the market and you can get one too. Check out our reviews on it. You can make up your mind if you want to own one.
A outstanding talent of the next generation players is surely Denis Shapovalov he is up there as a promising player in the world currently. He was hoping for that breakthrough season in 2019 though he didn't get it, he was still focused and persistent to end up winning his first ever ATP title at the Swedish Open.
Denis Shapovalov had all the trades and skills required to become a memorable talent to ever play the sport in the future. He's not always a consistent player on tour, however he's surely a talent that should never be doubted, Shapovalov is definitely in the top as a player.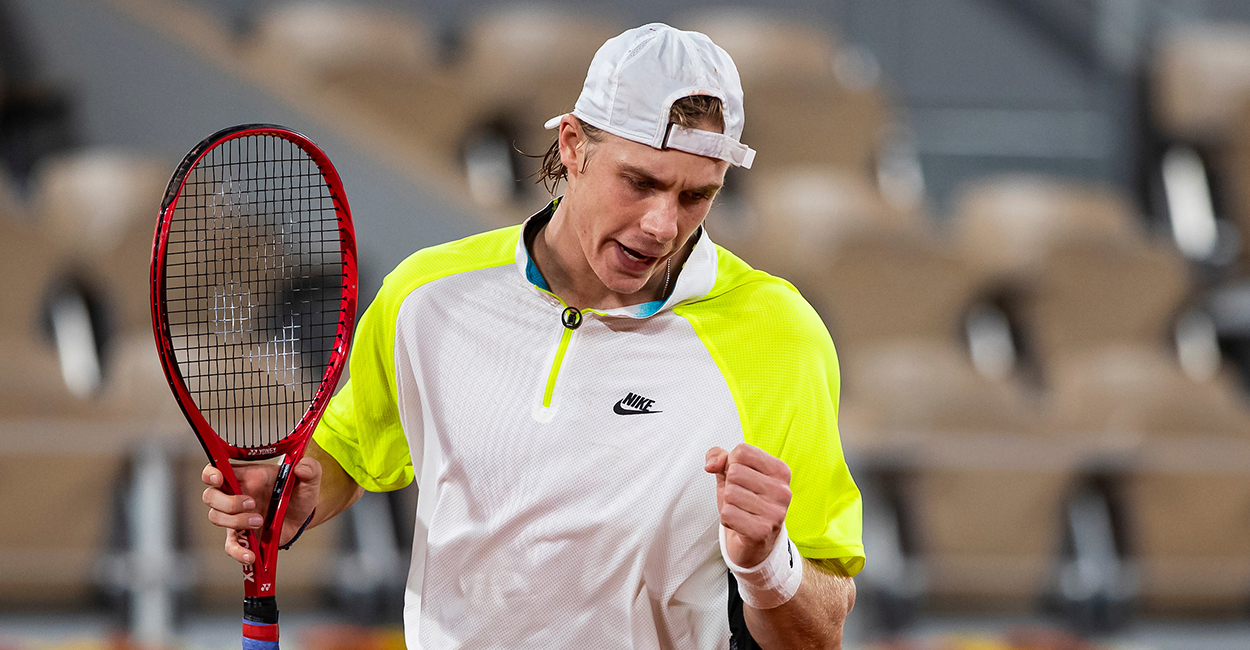 Every achievement that he has earned on the tennis court, a question most want the to answer to is, what racquet he plays with while competing at the highest level. Allow me to show you while I go through in this post.
Denis Shapovalov Tennis Racquet
Denis Shapovalov now uses the Yonex VCORE 95. to play with, His racquet is stringed by Yonex Poly Tour Pro in the mains and Wilson Natural Gut in the crosses. Shapovalov been playing with this racquet for a while now and don't look like he'll like to change for another anytime soon.
So, let us see why the Yonex Vcore 95 is such a fan favourite and what are its unique features.
The Yonex Vcore 95 tennis racquet is designed for aggressive and advanced players looking for a compact and manoeuvrable racquet that offers spin and good speed.
The main features of the Yonex vcore 95 are:
The Yonex vcore 95 tennis racquet has a square-shaped isometric racquet design that increases the sweet spot by optimizing the intersection of the main and cross strings resulting in better control.

It is fitted within aerodynamic fins that are positioned strategically along the bottom of the frame and help to improve manoeuvrability.

It is also fitted with aero grooves that hide the grommets present over the top of the frame thus reducing resistance and drag.

It also features straight hole grommets that elongate the strings and produce better comfort and support during off-centre shots.

The Yonex vcore 95 uses a vibration dampening mesh (VDM) located under the grip and around the graphite which helps to filter unwanted vibrations and improve shock absorption thereby improving precision and touch.

The Yonex vcore 95 is also fitted with a material called named which is unique graphite designed to increase frame torque, ball pocketing and spin.

It also features string sync grommets whereby a thin grommet nozzle is inserted into a large hole in the frame thereby improving spin.

The Yonex vcore 95 tennis racquet also has a soft cushion grip which helps prevent shock-induced injuries to the wrist, elbow and forearm.
Denis Shapovalov Racquet Specs
Most of the pro players out there now, Shapovalov have significantly modified his racquet. Yonex or Shapovalov himself hasn't put out any kind of modifications he have done to his racquet. But my guess is that he has modified it in such a way that It has a lead in the hoop and probably some silicone in the handle to increase the weight of this, otherwise, relatively lightweight racquet.
Can You Purchase Shapovalov's Racquet?
Yonex VCORE 95 is well known and one of the most famous racquets on the ATP Tour and are skyrocketing in popularity at the amateur level day to day as time goes by. I would recommend it to anyone who plays tennis on a some type of competitive level.
Denis Shapovalov's racquet, the Yonex VCORE 95 is in a variety of different online stores. But, the price changes a lot depending on the time and where you purchase it, but as I'm writing this I have discovered the most affordable price on Amazon. Take a peek at the now price and compare, because the prices are always changing.
Conclusion:
With its unique qualities, the Yonex vcore 95 tennis racquet is a favourite of not just a great player like Denis Shapovalov who has further modified his racquet to make it his own but also a lot of other advanced tennis players looking to improve their game and skill.