Get this Casper ruud tennis racquet if you want to be taken seriously on the court. We have the reviews on it an all the information you would need. See us.
Casper Ruud is a professional tennis player form Snarøya in Bærum Norway, the young and talented Norwegian star has been making his name in the world of tennis showcasing his talents on the tennis court. His current ranking ATP ranking is now 36 so we know for a fact that he is climbing the ladder to the top as we know it.
Casper is the son of former pro-tennis player Christian Ruud and that too has helped when it comes to building his fan bases popularity. The pro-tennis player was born on December 22, 1998, he is 6ft exact in height and weighs 170 lbs.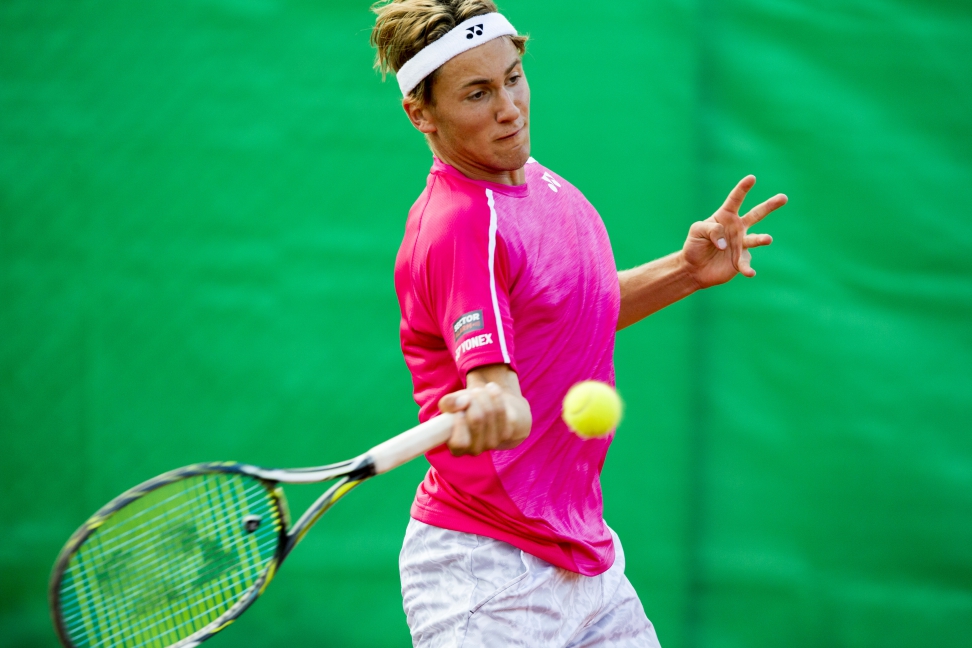 The Norwegian tennis star turned pro in 2015 and had won his first ATP World Tour win in 2017 as well. His highest ranking factor on the ATP board was 34 but as you can see he is not far from that rankings now.
He is young and has many Succesful wins on the tennis court and we all are looking forward to him becoming better with his promising talents as well.
The main question of the day is what tennis racquet does Casper Ruud uses? He normally uses the Babolat brand in the past but now he is currently the Yonex EZONE 100. He then strings his tennis racquet with the Yonex Poly Tour Pro for the main and for crosses he uses the Yonex Poly Tour Spin.
Let us get into some more details of this tennis racquet down below.
So if you are looking to purchase the Yonex ezone 100 racquet or if you are looking to just learn a little more about it, then you have come to the right place. lets's learn about some of its unique features below.
The Yonex ezone 100 tennis racquet main features:
The Yonex ezone 100 racquets was made for intermediate and advanced tennis players looking to improve their game and skill.

It has an isometric expanded head or a square-shaped head which is wider at the 3'o clock and 9 o'clock positions thus creating a pretty large sweet spot by optimizing the intersection between the main and cross strings and resulting in better control and spin.

It also features straight hole grommets that elongate the strings and produce better comfort and support during off-centre shots.

The Yonex ezone 100 tennis racquet is made using m40x which is high strength and high modulus graphite and helps to improve the stability of the frame.

It also features an oval pressed shaft that minimises vibrations and gives the player more spin and control.

The Yonex ezone 100 uses a vibration dampening mesh (VDM) located under the grip and around the graphite which helps to filter unwanted vibrations and improve shock absorption thereby improving precision and touch.

This tennis racquet also features shock fewer grommets that are integrated at the sides and bottom of the frame. These grommets help to minimise muscle fatigue and absorb shock thus reducing the impact at the wrist, elbow and forearm.

It also has an aero shaped frame that enables the upper and middle hoop to remain plush while the lower frame remains stable.

The Yonex ezone 100 tennis racquet also has a soft cushion grip which helps prevent shock-induced injuries to the wrist, elbow and forearm.
Casper Ruud Tennis Racquet Review
Head size: 100 square inches
Length: 27 inch
Strung weight: 11.4
Balance: 6 Pts HL
Swingweight: 316
Stiffness: 63
Swing speed: mid-fast
String pattern: 16/19
This tennis racquet is said to have a slightly larger sweet spot so you get better hits from it event if the ball doesn't connect perfectly. We are not sure of the special modifications that hs been done to customize Casper Ruud personally so this is the standard manufactured model specs.
This tennis racquet has some cool features like for one some new-technology implanted that reduces the heave vibration of the racquet when the ball hits the racquet. the power on this specific tennis racquet is surprisingly good it does exactly what you would want to do, transfers the energy to the racquet smoothy.
I personally think this tennis racquet can be used by all type players of the game no matter where they are in the sport, beginner,mid-level or professional player, its exceptionally player-friendly.
Can I Buy Casper Ruud Tennis Racquet?
The racquet is available on multiple platforms however my personal recommendation is the official web store or the Amazon market place, I have even recently seen it in the Amazon market place for a cheaper cost. The racquet is good in control and adding spin to your plays while maintaining good power drives.
Conclusion
Thanks for reading to the end in our article Casper Ruud Tennis Racquet review we do hope you have learned a few things for reading the article. Please remember to go visit some of the other related articles that we have on here like, Serena Williams tennis shoes and other interesting facts and stories.