Borna Coric Tennis Racquet if you want only the best in the market. There can be any number of racquets that you try, but the best always remains the best.
A tennis racquet plays a big role in how a tennis player performs. A tennis player may have all the skill and talent in the world, but with a badly suited racquet that is not accurately matched to his skill level, he will never reach the professional heights he deserves to. Borna Couric however does not have this problem. so get a
So, who is Borna Couric and what tennis racquet does he use?
Borna Coric is a Croatian tennis player the wonderboy is without a doubt one of the best next generation players for a period of time now. And he have proven it to the tennis world by defeating 2 of the greatest tennis players ever, Rafael Nadal along with Roger Federer twice.
But, Coric career has constantly been just a spike up. Coric face injuries and  struggled he was forced to miss out on basically all season of 2019. However if he can manage to stay fit and healthy for the future of his career, It would not be surprising at all if Coric won the Grand Slam championships.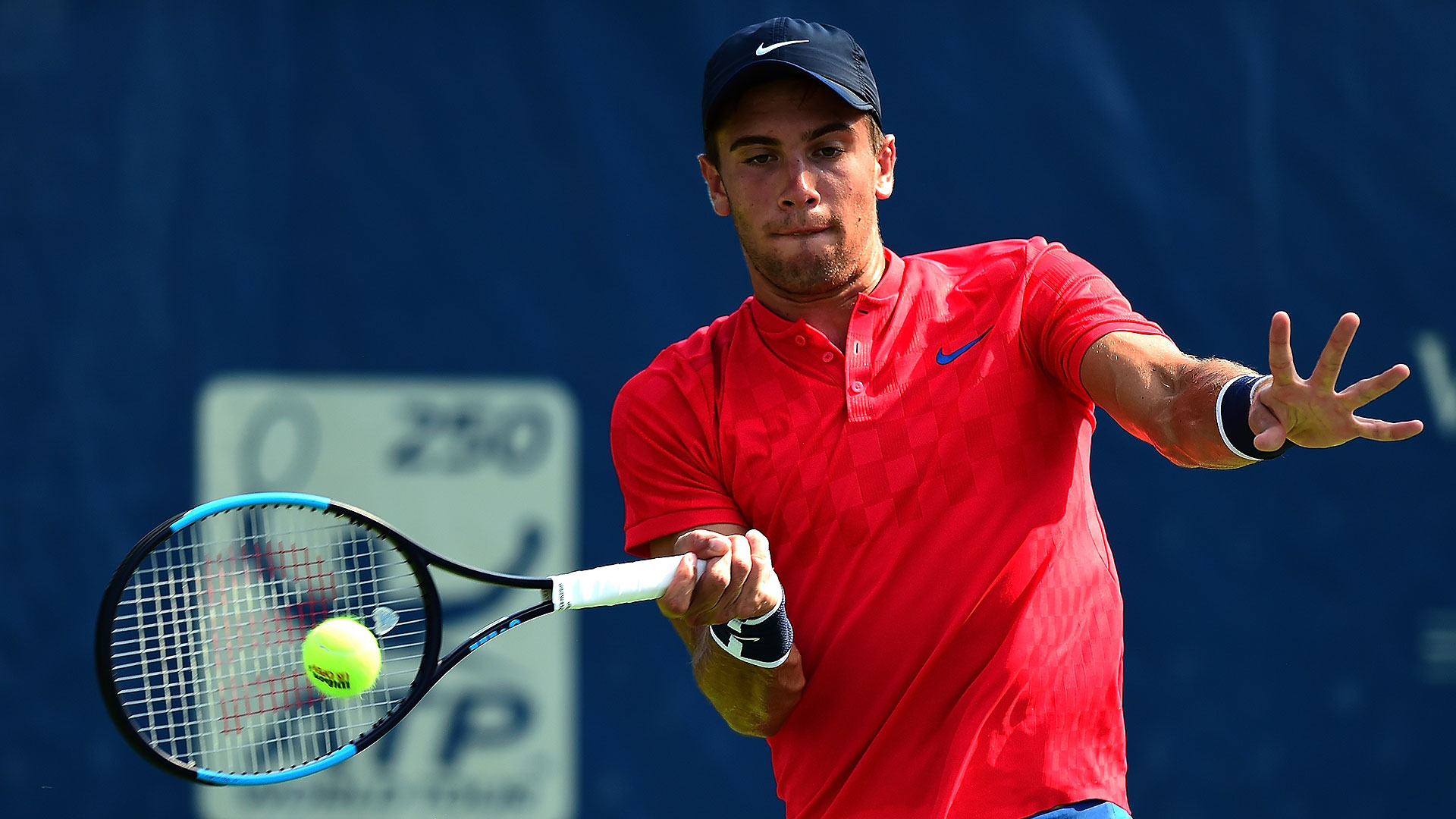 Let's now look at tennis racquets and how to purchase one based on our needs.
How to choose a tennis racquet?
There are certain factors that are essential to consider while purchasing a tennis racquet. Among them, the weight, length, head size and stiffness of the frame are some of the important points to consider.
Types of tennis racquets:
Power Racquets

Control or Player's Racquets

Tweener Racquets

Modern Player's Racquets
The type of tennis racquet you select depends completely on where you stand in your tennis journey.
If you are a beginner, it is recommended that you pick a power racquet. If you are an intermediate player, then a tweener racquet will suit you well. As you advance in this beautiful sport, you are likely to understand just what needs tweaking in your racquet and can go for a custom one that is adjusted to your specifications.
Because of his success on the court, a question many ask is, what racquet he plays with when competing at the very highest level. That's what we will find out in this post.
What tennis racquet does Borna Coric use? Borna Coric now uses the Wilson Pro Stock racquet named H25 that is designed to be familiar to the  Wilson Ultra 100 based on features.Luxilon Natural Gut is responsible for the stringing of his racquet in the mains and Luxilon Alu Power in the crosses.
Borna Coric Tennis Racquet Specs
I was unable to discover a dependable source of what specs Borna Coric pro stock racquet has. But, I can substantiate is that he uses a 16×19 string patterns and that Luxilon Natural Gut  is responsible for the stringing of his racquet he plays with in the mains and Luxilon Alu Power in the crosses.
His personal racquet specs isn't known to the public, the specs  in this post is for the racquet that he endorses, the Wilson Ultra 100.
Head Size: 100 sq. in

Length: 27 in

Weight (strung): 11.2 / 318g

Balance: 4pts HL

Flex: 72

String Pattern: 16×19

Swingweight: 320
Can You Buy Coric's Racquet?
Borna Coric's pro stock racquet H25 is a quite rare tennis racquets in the world currently, so trying to discover another one like it especially a brand new one today is just simply impossible. But, They are sometimes rarely listed on sites like prostocktennisand eBay, you can go and try your luck.
If your seeking a racquet that Coric that it looks similar to the one he uses, the Wilson Ultra 100, it's available basically anywhere. As I am currently writing this, I discovered the most affordable purchase price on Amazon. Go and look at the price right now and  make a comparison, because the prices are always being changed.
Conclusion:
The type of racquet one chooses is necessary to advance in this sport and should also be based upon one's skill in the game. A tennis beginner has to always be aware of racquet head size and weight to avoid injury such as tennis elbow and discomfort which is likely to lead to other problems later while playing. If you are a professional like Borna Couric then a Wilson ultra 100 is the best way to go.