If you have been idolizing this guy then your not the only one. Know all about the likes and dislikes of Boris Becker. Read articles on all tennis stars.
This German tennis star Boris Becker have finished his career with a total of six Grand Slam singles championships, making him one of the greatest player of all time. He is well known on the court for having a great serve followed by a volley which makes him one of the last players to successfully played that style throughout his career.
Having some massive paydays during his career, you have many people starts to ask, how much net worth does Boris Becker have right now? This is by far one of the most common questions ask for any former tennis player, which shows that he is very popular even after being retired from the sport. After all, when first started he had some very good earnings, but now everything seems to fluctuate a bit.
So, what is Boris Becker net worth? At his best, Becker was estimated to have a net worth of about $150 million. However, that's not the case right now since he is facing difficult times financially. Over the last few years, he has been facing bankruptcy and best believe it turned messy really fast for him. Even to this day he still reported to owe millions of dollars, forcing him to auction some of his most valuable prizes that he had won throughout his career.
Career Prize Money Earnings
During his career it take only a matter of time for Becker to actually make a name for himself as one of the greatest tennis player to ever take part in the sport. When he was only 17 years old, he won the 1985 Wimbledon Championships, and then after that he actually won again in 1986. As you can see, Wimbledon was his favorite, as he won three of his titles on the grass court. However, his biggest achievement was when he won his final two majors at the Australian Open.
In 1996, Australian Open was paying some huge paycheck to their winners. It was considered to be picking up with other majors and at that moment you start to see some of the best players taking part in Melbourne.
Here is a brief breakdown of how much Boris Becker actually earned throughout his career on the tennis court.
When you calculate everything, you'll realize that Becker finished his overall career with just over $25 million in prize money. With this amount in earnings, he is considered to be the 12th all time earner in the sport, which is pretty great for someone who retired a very long time ago. With a earning like that, it only shows that he doesn't only had a long career, but also a consistent one.
Endorsements
One thing everyone notice about Becker is the fact that he had a superb playing style, with is fast serve, excellent volleys and his ability to dive corner to corner for extra shots. This made him a very marketable player on the court, especially in his home country. People really enjoyed his playing style, even if they didn't understand what was going on.
Racquet Sponsors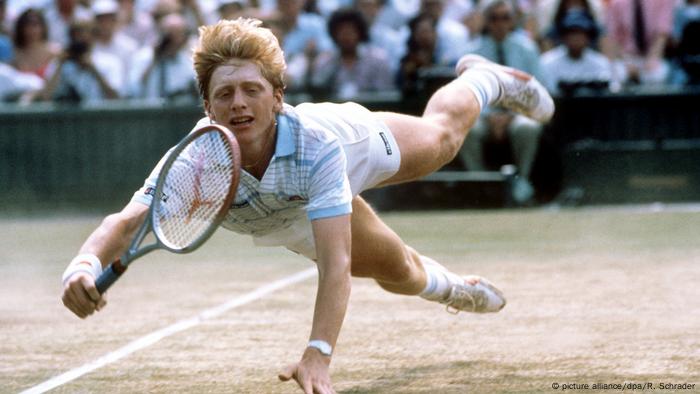 It's widely known that Becker uses many different racquet sponsors throughout his career. He started off his career with Dunlop, then over a period of time he then switched to Adidas for a short while. After that, he then started to play consistent with racquets from Puma, at that time Puma was actually making some decent quality racquets.
Over time, he think the best move would be to produce his own line of racquet with his silhouette logo on it. They did not do well, and are extremely hard to these days because of so many racquets company available. You could see him playing with his own racquet in exhibition matches, but over time he then switches back to more traditional options from bigger companies on the market.
Clothing Sponsors
Same as the racquet, Boris Becker actually had quite a few clothing sponsors to his name. He spent most of his time with companies such as Fila, Lotto, Ellesse, Diadora, Ralph Lauren and many more. What he did was bounced around to whichever company would offer him the most money at that time, which help him to grow his net worth during his career.
Not only that but he also take the time out to take part in clothing since retirement to try make banks with his current popularity. Just a couple months ago, he launched a fashion brand that only focuses on casualwear. He is said to be working with a German company called Fashion Concept which is the producers.
Other Endorsements
During his career, Boris Becker has worked with many different companies including Coca-Cola, Mercedes, PokerStars, and more. When just starting out because of his talent he received a lot of attention, but he never really become a superstar in the sport like some of the other players of his caliber. He always perform well in his home country, but struggled at bit internationally.
Other Wealth Contributors
It is safe to say that there wasn't a lot of wealth contributors for Becker while he was making his name in the sport. The main reason for his financial crisis was his failed business opportunities that actually put him way behind instead of ahead.
One thing for sure is that he is trying his best to come out of his current financial troubles, but in order to make this possible, he have to work really smart. Otherwise from that, he could make his situation worst by falling further and further making it impossible to actually come out.
Back then he had some very good opportunities to make some big cash, by simply coaching and commentating. He was known to be the Clash for popular player Novak Djokovic from 2014 to 2016. During that time, Novak Djokovic had won six Grand Slam titles, giving him a good run in the sport.
The sad part is that he didn't receive much credit as we all would expect since he actually teach Djokovic a lot of techniques. After that period, he has not worked with any professionals.
He even took the time out to announce for companies like BBC and Fox Sports Australia which gave him the opportunity to make some money after his playing days. During his time, he never really landed any massive commentating deals, but who knows, it could be in the making.
Boris Becker – The boy wonder
Boris Franz Becker was born on 22nd November, 1967 in Germany. At a young age of 17, he became the youngest player ever in the history of men's singles to win at Wimbledon. Also, he was the only unseeded player and the only German to ever win the title and the youngest person to ever win any Grand Slam title in men's singles, at the time.
Becker's father, an architect by profession, built the hometown tennis club, where Becker learned to play as a child. At a mere age of 8, he started playing competitively and moved his concentration wholly on tennis by the age of 12. He dropped out of school in the 10th grade and was schooled at the West German Tennis federation instead. His coach was a Romanian-born German, Günther Bosch.
At 17, Becker burst onto the International tennis scene, playing at the Wimbledon Championships in 1985. With his powerful serves and attacking styles, he overpowered his opponents and advanced to the finals, where he defeated Kevin Curren in four sets. Excelling on the fast grass surface, he won Wimbledon again in 1986 and 1989. Additionally, he won the Australian Open twice, in 1991 and 996 and the U.S. Open in 1989. He also won an Olympic gold medal in doubles at the Barcelona games in 1992.
Becker retired in 1999 from competitive tennis. During his career spanning over 14 years, he won 49 singles and 15 doubles titles. As a result, he was induced into the International Tennis Hall of Fame in 2003. Following his retirement he ventured into business. He also coached Novak Djokovic from 2013 to 2016, who won six Grand Slam titles during that time. 
He released his autobiography, The Autobiography Boris Becker: The Player (2004) which details his professional and personal life.
Future Outlook
We all are cheering for Becker that he gets the help to figure things out financially and get back on his feet as fast as possible. Though he has a long road ahead of him when it comes to solving his bankruptcy situation, the good news is that he is actually on the right path in life. We are all looking to see how many public appearances he will making during this time or if he will just stay in the dark.
Social Media Profile
instagram.com/borisbeckerofficial/