The 10 best tennis forehands of all time, if you want to see them. Our list is extensive and updated. Take a look for yourself and you can thank us later.
If you are a true fan of the sport then you should know that the forehand is one of the most dominant weapon in tennis right now. The main reason for this is because can easily gain points off the ground with a forehand that is not only hit hard, but also land in the right place. You have many players that break through by hitting flat, while you have a few that put topspin on the ball which makes it a lot more difficult for the opponents.
These days most of the best forehands of all time that you'll ever see is literally being done by recent players. The reason for this is because players are stronger than ever before and the new modern racquet and strings makes a complete difference as well. Here are a list of the best tennis forehands of all time.
Best Tennis Forehands Of All Time
10. Matteo Berrettini
This young tennis star have proven to the world how great he is over the past several games, but it is safe to say that is forehand is what makes him a Grand Slam contender. He is a very aggressive play and that's not only with his serve, but also his forehand as support. It has a decent amount of speed behind it, and you'll notice a good amount of spin as well.
With that being said, there are other parts of the game that holds him back a bit. He even has a vulnerable backhand that this pretty great when compared to other players in the top rankings. However, we is improving a lot since recently and the forehand is what gives him the opportunity to gain a lot of points that many people think he shouldn't have got.
9. Novak Djokovic
We can't deny that Novak Djokovic is one of the most talented tennis players. He can do many different things while on the court but one thing a lot of us overlooked is his forehand. It may not be the best, but it's extremely consistent and underrated as well. He's capable of hitting the ball deep in the court at literally any angle and it will fly with enough speed allowing it to penetrate into the court.
There are many different players out there that can hit forehand extremely well at any given time, but Djokovic might be the best in the sport when it comes to return of the serve with his forehand. He knows how to time the server very well, not only that but he also has a great flexibility and balance when returning. A lot of people compare his forehand similar to a ball machine, the reason for this is because he always hit his spot in long rallies before actually opening up the court a bit with something that's a bit more powerful.
8. Kyle Edmund
Though Edmund is all over the place at times, there is no doubt that he has one of the best forehand when it comes to tennis. It's one of his most effective weapon that he can always count on and he's also known as an offensive baseline.
It's best to know that Edmund is the type of player to use an western forehand that provide him with the opportunity to generate a lot of power as well as spin. There are many people worldwide that believe he has the best forehand in the game right now, which literally says a lot since there are tons of players with good forehand. He could improve the rest of his game, there is a high chance that he will be a great contender in the tournaments.
7. Stefanos Tsitsipas
The youngest player currently on the list is Stefanos Tsitsipas, as he still have many time to actually reach his prime. There are many players who see him as a future number one player in the world and if he work on his craft a bit more, he definitely will be.
One thing that gave him an advantage is his size and he is capable of providing a fast swing that enables him to put a lot of power behind the forehand. He is a player that is known to be very aggressive from the baseline, looking to hit groundstroke winners at any given time. He also practice to use his eastern grip which helps to land a decent serve with a very powerful forehand.
6. Fernando Verdasco
He's very well known to be Nadal's countryman, Fernando Verdasco, is a popular tennis player that spends most of his time lay back in the shadows of the former number one player. However, we strongly believe that they are tie when it comes to forehand. Verdasco tends to approach his forehand a bit different when compared to Nadal's, but they both put a twist to it and turn theirs into a beast.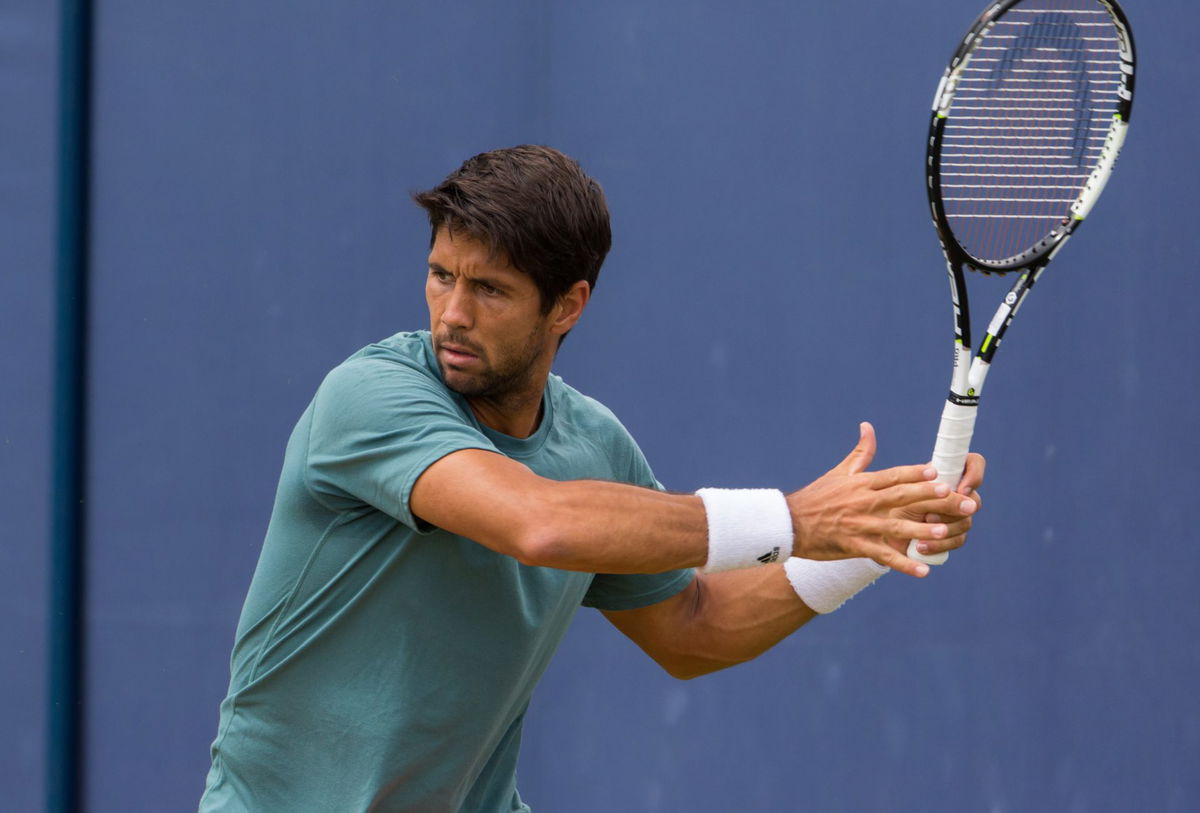 Verdasco is considered by many to have one of the hardest left hand forehands in the game right now. He's also capable of hitting the best player off the court when he is in form. His best performance in major tennis tournament have always been with his forehand especially when he is dialed in the game, including that superb semifinals showdown against Nadal in 2009 Australian Open. He is near to retirement as we speak, but is forehand is still a threat among his competitors.
5. Rafael Nadal
To many of his supporters, Rafael Nadal is not known to be dominant when it comes to his forehand. He has a very excellent swing but it wasn't a weapon when he was just starting out. He has now improve on his playing style turning it into a shot that has a ton of topspin and right amount of speed to keep players on their feet.
One of the most surprising thing is that Nadal is not a natural left-hander. What you will notice is the fact that is usually hit a forehand like this with his weak arm, which shows how much work he has done to improve. He has the potential to generate as many rotations per minute on his forehand compared to any other players on tour, which gives players on clay particular fits.
4. Dominic Thiem
Dominic Thiem has done a lot of work to actually make it to the top of the rankings. Up to this day he is still in his prime days and he has established himself as a player who can dominate any player on literally all surfaces, especially if they choose to play on clay. His forehand is special built for that surface and he is able to gain a lot of topspin on shots when he need to. Apart from that he can also flatten out the forehand which may cause a lot if trouble in that regards.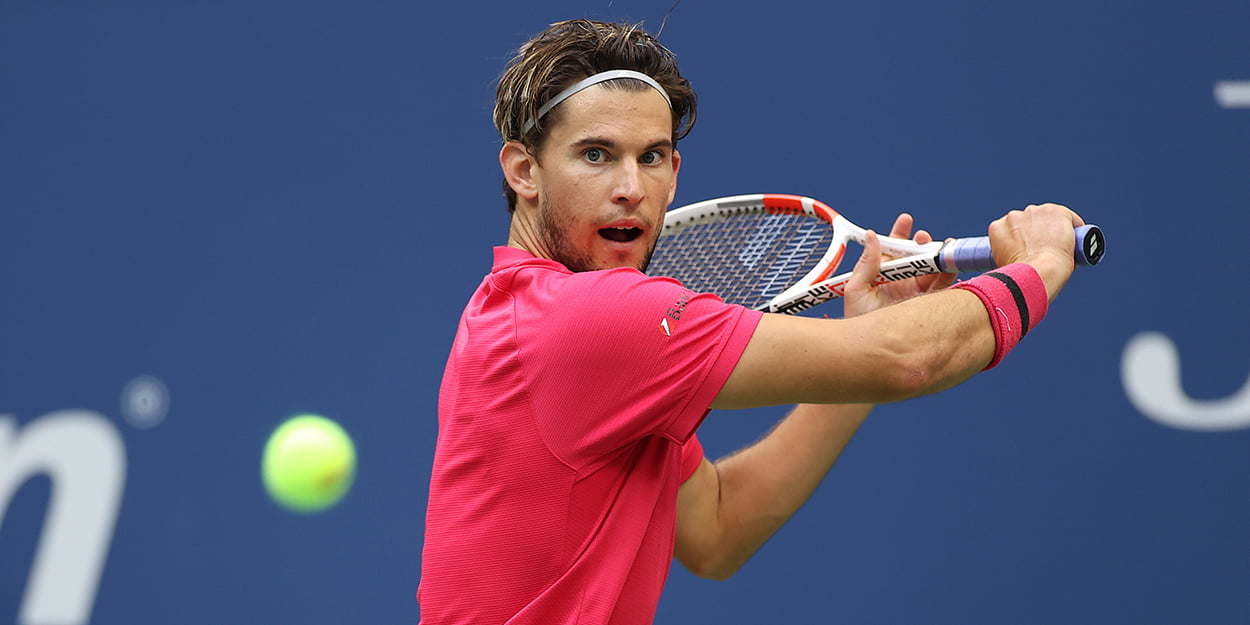 Thiem is a very consistent player when it comes to forehand, so while he may not be able to generate a lot of power, he can easily wear his opponents out. When he is ready, he is not afraid to drop a forehand shot to keep his opponents confuse.
3. Fernando Gonzalez
Many people across the world were pretty shock when Fernando Gonzalez made his way to the Australian Open Final in 2007. The main reason he was able to pull this off is because in his prime days he literally had one of the best forehand in tennis history. He has the ability to rip the ball relatively faster than any player on tour, and this is what help him win against his opponents.
During that moment, he was able to take out a lot of top ranking players along the way. He played against Rafael Nadal in the quarterfinals of that same event and he ended up dominating the entire match coming out on top. He eventually became wear out against Roger Federer, but that's nothing if that happened.
2. Roger Federer
One of the main skill set that Roger Federer has always depend on throughout his career is his reliable forehand. He has the ability to hit the ball and place it wherever he wants off of that wing. He has one of the best skill set that a player could ask for, although it tends to be a bit more on the flat side.
As much as he had a superb forehand, he ended up making a change throughout his career to actually keep it consistent. He was one of those players to use a pretty small head size, but he then switched over a period of time because he wanted to have some more area to work with. That ended up working out great for him in the second half of his career.
Federer also has a few tricks in his book since he is capable of throwing off players with his forehand. He also practice to drop shot off the forehand or even chipping the ball so that it reaches to the net. Whenever Federer plays a game that is more focused on baseline, he becomes comfortable mixing looks that's base off his forehand.
1. Juan Martin Del Potro
When he is in his form, Juan Martin Del Potro could actually dominate any matches thanks to his powerful forehand. He is more known has the player with a flat forehand that packs plenty of power and he tends to leverage his height quite well. He doesn't have the skill when it comes to hitting with a lot of topspin when compared to other players, but he has the right amount of net clearance thanks to his height.
His forehand gave him the opportunity to win the 2009 US Open, winning against Rafael Nadal in the semifinals and Roger Federer in the finals. That's not bad for a player who was actually outclassed with a wide range of shots from these top tier players.
The sad news is that wrist injuries have limited Del Potro over the past years and it seem more and more unlikely that he will ever go back to how he was in his prime days. During his prime days, he had developed a forehand that was feared among the whole tennis community.
Here's how you can improve on your forehand
Add more power to your forehand
An advanced forehand consists of several elements but can be broken down into two major elements that creates the power for the forehand – Rotation and extension of the arm. This is what you need to focus on and master to create more forehand power.
To explain, the forward swing includes the first part where the hips and shoulders are rotating by about 90 degrees and the second part where the arm moves forward through the contact zone towards the target. 
Your forehand not only includes the preparation of the forehand and the movement, but also the certain type of stance used and the forehand being released into the follow through and, between all of this, you may not always see the parts where the body rotates and the arm goes forward. But once you master the technique of using the rotation and extension of your arm to create more power, there's no going back.
     2. Add topspin to the forehand
In order to create topspin for a forehand, the racket must move upwards. Since players hold the racket in the dominant arm, they tend to use only the arm (shoulder joint) as it is the strongest and they like to use it for more power. To create enough topspin to a tennis forehand though, the beginning of the upward racket head movement needs to start with the legs. 
You can then isolate the movements of your legs by moving up and down, without moving any other body parts to move the racket so you can clearly see how much upward movement you can create by simply using your legs.
There are three joints in your arm, the shoulder, elbow and wrist. You can use all three joints to create a great topspin forehand.
Related Guide: