Alexander Bublik Tennis Racquet has been much sought after. So if this has been one of the items on your wishlist, dont hold back. Get it now and use well.
This Ukrainian tennis player Alexander Bublik is not only known on the court to be one of the most controversial ATP Tour players, but also one of the most talented to ever grace the sport. He normally speaks about how he dislike competing and that he only play the sport because of the money.
Despite being controversial, there is no doubt that he is one of the most talented players in the world right now. He has a powerful serve and swift movement (considering his height), he is a burden opponent for most players on the tour.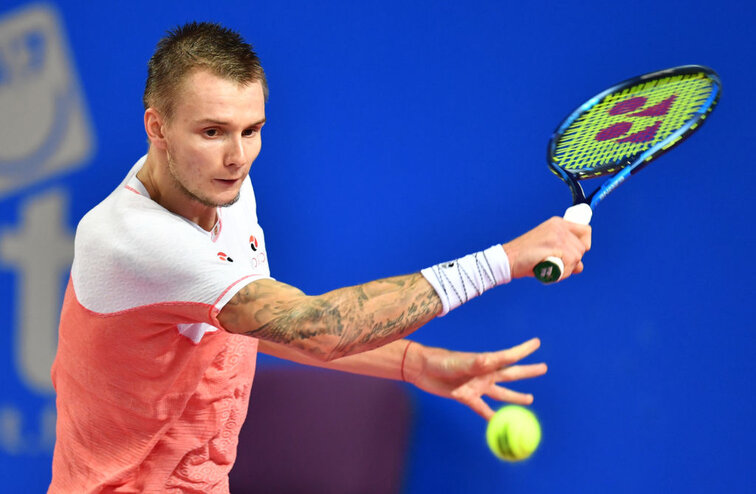 With all his talent and everything that he have accomplished over the past years, there are lots of people who starts to ask, what racquet does he use to compete at his highest level causing is opponents to be afraid. That's exactly what we will be going through in this article.
So, what tennis racquet does Alexander Bublik use? Alexander Bublik currently plays with the Yonex EZONE 98. He also take the time out to string his racquet with Yonex Poly Tour Pro. It is safe to say that Bublik have been using this racquet setup for quite some time now and it doesn't seem like he will be changing it any time soon.
Alexander Bublik Tennis Racquet Specs
For many years now, the Japanese company has been a staple in the racquet market but has often taken a back seat to other popular brands such as Head, babolat and Wilson. However, more recently, their popularity has soared with the introduction of EZONE which has now completed 6 generations and offers top-level specs that appeal to a broader range of players from beginners to advanced.
Similar to most pro tennis players out there, Bublik has done a lot of customization to his racquet. However, Yonex or Bublik himself haven't made it public as yet what kind of modifications he have used on his racquet. So, here are the main specs for the Yonex EZONE 98.
Head Size: 98 square inches
Length: 27 inch
Weight (strung): 11.4 oz /323g
Balance: 4pts HL
Stiffness: 63
String Pattern: 16×19
Swingweight: 316
What makes the Yonex EZONE 98 the ideal tennis racquet
Isometric head shape increases the sweet spot which means you hit more calls on court.

The new strong elastic material called M40X improves the racquet's flex and maintains tour level stability

Micro Offset Layout reduces the number of vibrations pinging through the racquet, thereby reducing injuries

Hyper MG reduces frame bending on impact

Better spin potential due to a higher launch angle

Faster manoeuvrability for better groundstrokes, volleys and serves

Good precision for optimum racquet control

The new VDM mesh in the handle soaks up a ton of shock
Can You Buy Bublik's Tennis Racquet?
Alexander Bublik is not the only pro tennis player that uses Yonex racquet brand to compete in the sport, you have many pro players that enjoys using the racquet as well.
The only drawback is that Alexander Bublik tennis racquet isn't available everywhere like the Babolat and Prince brands, however, there are a few stores where you might find the racquet for sale.
Depending on where you choose to buy the racquet from, the price may differ, but base on research I found Amazon to be the cheapest marketplace available. So, what you can do is take a look at the prices and compare them, because the prices are changing frequently.
In summary
Tennis is considered one of the toughest sports to play. It requires great physical and mental strength, strategizing and planning. That being said, the equipment used in any sport for that matter plays a largely important role in setting the right tone for the game and makes the great players stand out from the mediocre players. Alexander Bublik is one of the finer tennis players there is. The Yonex EZONE 98 Tennis Racquet that Alexander Bublik uses is an upgrade from its predecessors. It is lightweight, has a great grip and balance, impressive comfort and is highly durable, features that make for an effortless play. This racquet is highly recommended for players wanting a powerful, fast and fun racquet to unleash the force. When you can get your hands on the best, why settle for less?
Related Guide: