Get info on the Alex De Minaur tennis shoe. This one is much in demand for its style and comfort. Get tips on keeping it spruced up as well. Visit us today.
Born February 17, 1999, this young Australian tennis star talent cannot go unseen, in the year 2019 he had an ATP ranking of #18. Now, that's a wow when you check back to how young this tennis star is and already had made it to a low number like that in the ATP books.
The Australian star is young and talented and still has a far way to go in terms of achieving goals and achieving a better ATP ranking factor in which I feel he will make the top 10 soon.
If you are an Alex fan you will notice that he usually wears one specific brand when competing on the court I know for a long while you guys have been wonder what tennis shoe does Alex de Minaur wears?
Alex de Minaur wears an Asics solution speed FF, he usually switches it up with the clay version when playing on that type of court as well. So as you see he basically sticks to that brand and it seems to be doing good for him as well, lets get into some more details about the shoe he wears.
Alex de Minaur Tennis Shoe Review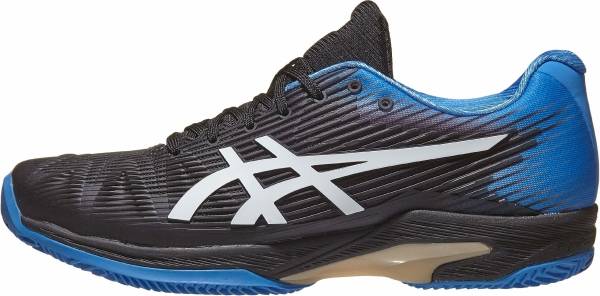 Removable Sockliner
Ortholite Sockliner
Mesh-Synthetic
Rubber Sole
Solyte Midsole Material
Enhanced cushioning
Rearfoot and Forefoot GEL Technology
Trusstic System technology
As you can see where comfort is involved this tennis shoes on a next-level its no wonder its one of the leading tennis shoes in the world. The Asics Solution Speed FF was built to withstand all the pressures implanted on it while being durable at the same time.
The Speed model shows you that it is very easy to move around I can tell you for a fact that this tennis shoe is light as a feather on your feet. Most of the persons when playing in this specific shoe for the first it will come to a surprise of how lightweight this tennis show is.
It is often that person even question the quality of the shoe when you feel it on your feet.The comfortability of the shoes it no wonder why Alex de Minaur and other pro tennis players like David Goffin loves to compete on the court in the brand and model show.
The shoe provides the person wearing with plenty of room to execute the best footwork one can get on the tennis court while protecting it at the same time.
I would totally recommend that if you play tennis at any level you should get this specific tennis shoe you will love the feel and plays it gives. This is a true modern technology shoe as you can see there are a lot of new-tech materials used to craft this shoe.
Profiling the Asics Solution Speed FF
Outsole

– The outsole of the shoe is built up of a tough kind of rubber called AHAR (Asics High Abrasion Resistant) that enhances the durability, balances the grip & makes it resilient to abrasions. The extremely lightweight technology makes this footgear minimum load-bearing.

Midsole

– Twisstrust midfoot support inhibits lateral twisting to provide the stability a player needs when sliding or diving for a ball. Added to it, the Ortholite sock liner keeps the foot fresh and dry while safeguarding it from impact. The lightweight cushioning allows for stretching, sliding and lunging towards any angle of the court with ease. Apart from cushioned foam beds, this footgear has Asics gel units integrated below the heel and under the ball of the foot to help reduce stress and impact to the feet.

Upper

– The form-fitting comfort is attributed to the Flexion Fit upper engineering, providing the best grip and optimum foot support. Additionally, in order to avoid abrasions during toe-drags, the PGuard toe protector provides increased durability while in action. The low-to-the-ground profile also helps in maintaining good foot control and spin around the court at full speed.
Can I Buy Alex de Minaur Tennis Shoe?
The answer to that is yes, you can get Alex de Minaur shoe to buy on many platforms out there, however, like always I won't recommend using places that are not popularly known or used to the world. I personally just buy from the official brand line website or I would just use the Amazon platform where I normally get it at a cheaper cost.
Conclusion
When you already have so much game planning and strategies on your mind, the last thing you would worry about is your shoes. The perfect pair of shoes helps in changing directions and moving positions with such ease that you don't even need to think about what your legs are doing and concentrate fully on the game at hand. The Asics Solution Speed FF is all about providing the right level of comfort, support, protection and durability. WTA tour titlists such as Coco Vandeweghe (American), Julia Goerges (German) and David Goffin (Belgian & one of ATP's top 10 players) have relied on the benefits of the Asics Solution Speed FF.
We have reached the end of our review on Alex de Minaur tennis shoe, we do hope you have enjoyed reading with us. Please remember to visit some of the other related articles that we have on here like, what tennis shoes do Fabio Fognini wears and other related stories.