If you want to know the 10 Best Tennis Players Of All Time, visit our site. We have a recently updated list. Check to see if your hero is still on it.
Though easy on the eyes when watching, tennis is considered to be one of the most challenging sports. It demands physical endurance, speed, stamina, strength, mental fortitude and strategy. While all tennis players practice a lot, the most successful players stand out by using techniques that complement their physical strengths to their advantage. Below listed are a few qualities that set them apart from the rest:
Spirit of spor

t – Having the right attitude towards the sport strengthens your character and equips you to deal with failures and setbacks. As much as tennis is a physical sport, having good mental health is key to maintaining balance.

Volley shots

– These shots are picked up before the ball hits the ground and therefore, hit when players are near the net. You need to have good hand-eye coordination and quick reflexes like Roger Federer to pull off great volley shots effectively.

Backhand and forehand

– Both backhand and forehand shots need to be stable and strong. Backend strokes can be one-handed or two-handed but need to be effective. Successful players build a strategy around their strong forehands.

Speed and agility

– Speed is one of the most important aspects as it determines how quickly the player can get to the ball. Agility on the other hand is the player's ability to change direction quickly while maintaining good body control and balance, without losing any time in transition.

Serves

– The first serve is important and most players are even admired for their first serve. Even though the second serve requires a greater amount of topspin, it is considered less important than the first serve. The first serve sets the tone for the rest of the game.
Fierce contraction on the ball helps and never give your opponent an inbuilt advantage based on a weakness that he can exploit.
The game of tennis has witnessed 10 best tennis players of all time. Some of these players have changed the way the game is played. The following players are some of those who left their mark on the game.
10 Best Tennis Players Of All Time
1. Roy Stanley Emerson
Emerson was born on the 3rd of November 1936, in Australia. Emerson has won 28 major titles, which is an all-time record for a male tennis player. The 28 titles comprised 12 Grand Slam titles and 16 Grand Slam Doubles titles.
Emerson was also the first male player to have won 12 Major titles, a record which he held for 30 years. Pete Sampras broke this record in 2000. Federer and Nadal also went past this milestone. He has considered one of the all-time greats of tennis.
2.Martina Navratilova
Martina was a Czech-American tennis player who is considered one of the best tennis players of all time.
She was the first player in tennis history to hold the top position in both the singles and doubles category for 200 weeks. In total, she won 18 Grand Slam titles and 10 major mixed doubles titles. A record. Martina is also one of three women who accomplished a Career Grand Slam in women's singles and doubles and mixed doubles. The others who did the same thing are Margaret Court and Doris Hart.
3.Rodney George Laver
Laver is a former Australian player regarded by knowledgeable people as one of the greatest players ever.
He was ranked No.1 nine times in different years. This is an all-time record in the game of tennis. Laver has to his credit 200 singles titles, and the maximum anyone has ever won. He also won 10 or more titles per year for a period of 7 years. Still a record. Laver was brilliant on all types of court surfaces, clay, grass, wood/parquet and carpet. An ability few have ever shared since.
4.Roger Federer
Federer is a professional tennis player, who along with Rafael Nadal and Novak Djokovic are considered to be some of the best tennis players. Federer, Swiss by nationality, has to his credit 20 Grand Slam men's singles titles. This is a record that he shares with Rafael Nadal.
Federer also has to his credit 103 ATP singles titles. This is just behind the number won by Jimmy Connors. Federer managed to win his first Grand Slam title at the age of 21, at Wimbledon. Federer later lost his dominance to Nadal and Djokovic. But he remains one of the great players.
5.Serena Williams
Serena is the former World No.1 in singles women's tennis and is an American. Her achievements make her one of the greatest female players. Among her achievements are – 23 Grand Slams. This is the maximum by any player in the Open Era. She is surpassed only by Margaret Court.
To her credit, she was nominated World No.1 on 8 separate occasions by the WTA. Another achievement that she enjoyed was holding the No.1 ranking for 186 consecutive weeks. Steffi Graf was the only other player to have this record.
6.JoMcEnroehn  Jr
Popularly known as the "Bad Boy " of tennis, sometimes as the "Enfant Terrible, " he bursts onto the tennis scene with a bang. His powerful serves and volleying skills were his greatest strengths. Opponents found themselves outplayed. His temper and antics on the court did nothing to endear him to the umpires or the court officials. But he was a great player.
His career finished with 77 singles and 78 doubles titles. These numbers have remained the highest men's combined total of the Open Era. In 1984 he won 82-3 matches, and it is still unsurpassed.
7.Novak Djokovic
Djokovic is a professional tennis player of Serbian origin. He began his professional career in 2003. He was 20 when he removed Federer and Nadal from the top of the tennis rankings and won his first Grand Slam singles title at the Australian Open in 2008. His career got a boost in 2011 when he was ranked No.1, winning 3 out of 4 majors, and 5 Masters events.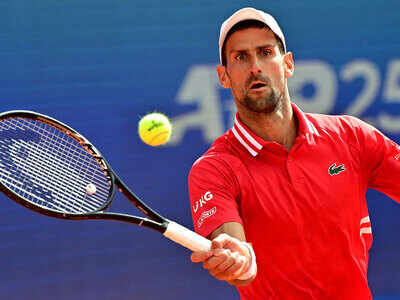 For the rest of the decade, he remained the best player in the game. After Rod Laver, Djokovic is the first player to hold all 4 titles at the same time. He is also the only one to do so on 3 different surfaces.
8.Björn Borg
Borg is a former World No.1 player. He is Swedish by birth.
He played for several years between 1974 and 1981. He was in fact the first player to win 11 Grand Slam titles in the Open Era, 6 French Open titles and 5 titles consecutively at Wimbledon.
One of the contributions of Borg was that his stardom and fame helped popularise tennis as a sport. The result was more prize money for the professional tours. He made millions of dollars in prize money. But the pace got to him, and he retired at the age of 26.
9.Pete Sampras
Sampras was born in Washington DC. In his teens, he was coached by Robert Lansdorp. It was his coach who taught him the forehand shot, which he used throughout his career. But it was Dr Peter Fischer who converted Sampras's double-handed backhand return to a single-handed one. This made him better at the game.
Sampras went on to win 14 Grand Slam titles, 7 Wimbledon, 2 Australian Opens and 5 US Open titles. He was awarded the World No.1 title in 1993. Sampras had an extremely powerful single-handed backhand and a powerful serve. He earned himself the nickname of "Pistol Pete". He was inducted into the International Tennis Hall of Fame in 2007.
10.Boris Becker
Becker was a professional tennis player who attained World No.1 status. He was of German extraction. He was a player who attained success at the start of his career. He won his first title at the age of 17. He went on to win 5 more.
Becker has the honour of appearing in the 7 Wimbledon Finals, the first male player. Pete Sampras was the other. Becker was not so fortunate in his private life and was dogged by misfortune. Once his playing career ended, he tried a number of ventures, none of which worked.